With the HorizonBeleggen investment form, you do not have to worry about your investments. We invest for you using a lifecycle.
Investing in a lifecycle
A lifecycle is a certain mix of investments. In the composition of your investments, we ensure that the investment risk is reduced as you approach your retirement date. This means that we change the mix of funds so that the investment risk decreases.
You don't have to do anything
Based on your age and the number of years remaining until your retirement date, we invest in a mix of shares, property shares and corporate and government bonds. Your mix of investments is automatically adjusted each year. You do not need to do anything yourself.

With the lifecycle model, you have the opportunity of a good return, while your investment risk is gradually reduced. Your retirement date is the horizon for your investments. In our pension schemes, we integrate sustainability risks into our investment decisions
Asset mix based on lifecycle model
If your retirement age is still far away, it is important to take advantage of the opportunity for a good return. While the risks to be taken remain justified. Therefore, in this phase of the lifecycle, we invest in a mix largely consisting of shares.
As your standard retirement date approaches, we ensure that your asset mix is invested at a lower risk. You do not need to take any action to reduce the investment risks. We will take care of any necessary adjustments.
Just before the standard retirement date, the asset mix will largely consist of fixed-income securities, including bonds. For this purpose, we use the Zwitserleven Medium Duration Fund and the Zwitserleven Long Duration Fund.


Why the Zwitserleven Medium Duration Fund en Zwitserleven Long Duration Fund?
The last phase of your pension accrual may require some additional explaining. By investing, you build up capital. This means that you have to 'buy' pension benefits on your standard retirement date. That is why the amount of this capital partly determines the amount of your pension benefits. In addition, the interest rate at the time you buy your pension is important. With the Zwitserleven Medium Duration Fund and the Zwitserleven Long Duration Fund, interest rate fluctuations in the years just before the standard retirement date will have less affect on the pension benefits you have to buy.
Invloed marktrente zonder rentematching
De hoogte van het jaarlijkse pensioeninkomen op het moment van aankoop beweegt mee met de marktrente. Daalt de rente dan daalt ook uw pensioeninkomen.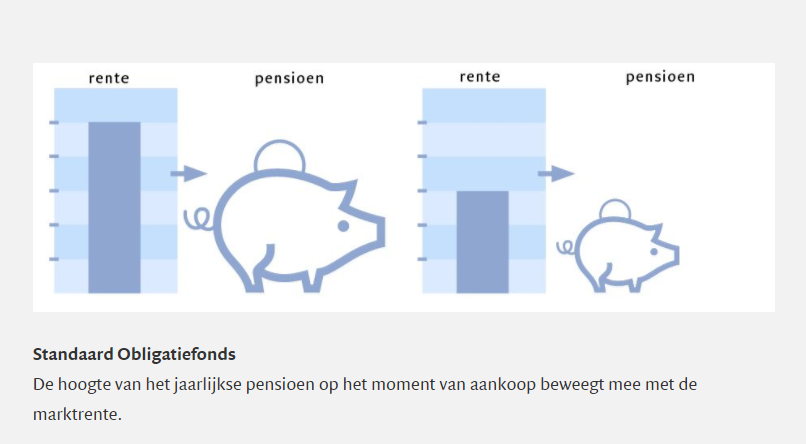 Invloed marktrente met rentematching