Klik hier voor Nederlands
For you, Zwitserleven HorizonBeleggen means carefree investing, because Zwitserleven manages the investment allocation for you, based on a lifecycle model. This lifecycle model automatically reduces the investment risks as your retirement date approaches. It is designed to take advantage of opportunities that generate good returns, while continuing to reduce the risks. With HorizonBeleggen, your retirement date is the horizon for the investments in your pension. That's why it's called HorizonBeleggen.
What does HorizonBeleggen do for you?
You do not have to spend any time on your investment portfolio
Investments in a mix of stocks, real estate, and corporate and government bonds
Automatic reduction of the level of investment risk as the retirement date approaches
Reduces the uncertainty about the amount of pension benefits you can buy at retirement date
Zwitserleven invests for you
With HorizonBeleggen, your pension contribution is (socially) responsible invested by Zwitserleven. Your age and the number of years to your retirement date determine the mix of equities, real estate and corporate and government bonds that we invest in. We adjust your personal investment allocation every year. The investment risk decreases gradually, without you having to do anything. Zwitserleven adjusts the investments but is not responsible for the returns or whether the investments will generate enough pension.
When HorizonBeleggen?
HorizonBeleggen is aimed at employees who do not want to manage their investments themselves. In addition HorizonBeleggen is also very convenient for employers. With HorizonBeleggen, the employees' investor profile doesn't have to be determined. This saves a lot of forms and administration.
If you are young and your retirement date is still far away, you should take advantage of the time to get a good return on your investments while a certain level of investment risk is still acceptable. In this phase of the lifecycle, we invest for you in a mix that consists for a large part of equities.
As your retirement date approaches, Zwitserleven will make sure that your investment mix is exposed to a lower level of risk. You don't have to get involved. Zwitserleven will make all the changes for you.
Phase 3. Shortly before the retirement date
Just before your planned retirement date, the investment mix consists almost entirely out of bonds. We use the Zwitserleven Medium Duration Fonds and the Zwitserleven Long Duration Fonds. These funds give you more certainty about the amount of pension you will receive when you retire.
Zwitserleven Medium and Long Duration Fonds
The last phase of your pension accrual might need a bit more explaining. By investing, you build up capital that you can use to buy pension benefits on your retirement date. The amount of capital that you accrue determines how much pension benefits will be paid out. The interest rate at the time that you buy your pension (your retirement date) is also important. With the Zwitserleven Medium Duration Fonds and the Zwitserleven Long Duration Fonds, interest rate fluctuations in the years shortly before your retirement date will have less effect on the pension benefits that you are able to buy. See the below figures.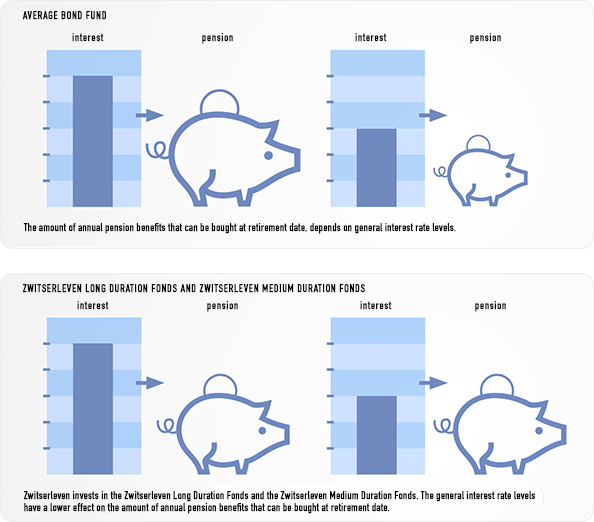 Low fund costs
The total fund costs depend on the investment allocation. You will receive an annual statement with information about the costs of the funds. Information about fund costs can also be found at the website: zwitserleven.nl/fondsen.
For Zwitserleven HorizonBeleggen, we use Zwitserleven investment funds. Using our in-house investment funds keeps the costs low. Zwitserleven's investment funds are not listed on the stock exchange, but they are under the supervision of the (Dutch regulator) AFM.